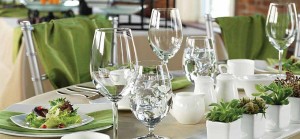 NorCal Restaurant Supply keeps a massive selection of smallwares and table ware in stock at our Chico location! Featuring the brands listed below plus dozens more, you won't find this kind of selection anywhere else north of the bay area! We can help you replace just a few broken items, or help you choose a new look for your restaurant service from our selection, or custom order anything you can imagine!
Smallwares is where we shine! We have a knowledgeable staff that has been in the industry for many years with a vast knowledge of all kitchen supplies, cookware, plates, glassware, flatware and everything else for the front and back of the house.
China
Glassware
Flatware
Melamine dinnerware
Menu covers & holders
Pitchers
Plastic tumblers
Tabletop accessories
Salt & pepper shakers
Peppermills
Knives
Aprons
Scales
Thermometers
Oven mitts
Food trays
Steam table pans
Stock pots
Mixing bowls
Food storage containers
Food boxes
Ingredient bins
Shelving
Dunnage racks
Stainless steel work tables
Blenders
Commercial microwaves
Pop-up toasters
Conveyor toasters
Rice cookers
Drink mixers
Spindle mixers
Juicers
Waffle makers
Toaster ovens
Crepe machines
Soup warmers
Food warmers
And much more!
Restaurant Supply Smallwares Brands